ABOUT US
The owner, Takeshi Yoshino, met country singer Dave Kuboi when he was young and was fascinated by country music, cowboy culture, and western fashion.
Especially interested in Texas and the south, for decades, he travels to Texas, USA twice a year, and collected all kinds of Texas goods, including pickup truck parts, neon signs, road signs, car license plates, hats and jeans, western shirts, boots, etc.
All for the dream of having one with his own honky-tonk bar someday.

And in 2005, he finally opened Little Texas in Meguro, Tokyo.
The wood used for the walls is imported from Texas, and the structure of the shop is a condensed version of the structure of a typical Texas honky-tonk bar.
In recognition of his passion and love for Texas, he was awarded the title of Honorary Texan by the Governor of Texas in 2011.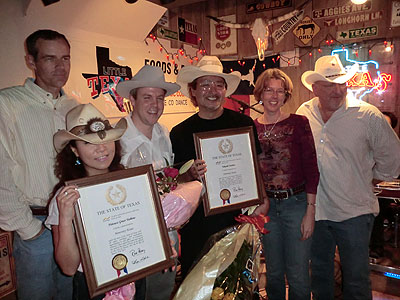 He's working hard day and night to introduce the latest Texas culture, country music, fashion, etc. to Japan.
Little Texas was introduced in numerous American media, TV stations such as ABC Dallas, radio stations such as National Public Radio, magazines such as TEXAS MONTHLY, and newspapers such as USA TODAY and Houston Chronicle.
It has become known as a base for transmitting American culture in Tokyo, and become a famous spot in both Japan and the United States, with the US ambassador and the governors of Tennessee and Mississippi secretly visiting the Little Texas.
MESSAGE
HAWDY !! (Hello in Texas!)

Thank you for visiting our site today.
It is a handmade space filled with the owner's passion for Texas and love for country.
Utilizing materials from the United States, we imagined a small honky-tonk in the countryside of Texas.
Even if you are new to country music or dance, you will feel "cozy atmosphere".
We would be very happy if you could drop by casually.
The honky-tonk bar that we worked hard to create will only be completed when the smiles of our customers shine.
Please enjoy yourself as you are in the southern United States when you visit us!

All Little Texas staff
CONTACT US
VENUE
LITTLE TEXAS BAR N' GRILL
ADDRESS & MAP

Meguro-Daiichi-Bldg. B1F 1-5-19, Meguro, Meguro-ku, Tokyo, TX, Japan
TEL
03-3492-6677
E-MAIL
littletexas.jp@gmail.com
HOURS
Monday to Friday 6:00 pm - 0:00 Mid Night
Saturday 5:00 pm - 11:00 pm
CLOSED
Sunday and Holiday (Private party available)